The 76th Cannes Film Festival is well underway, but there's another particularly spectacular world premiere to be experienced in the port area of ​​the southern French city instead of a movie screen: a co-produced, presented by BMW and boat maker THE ICON by TYDE, demonstrates a new sustainable transportation solution on water. Additionally, ICON is the first battery-powered ocean craft of its kind, bringing together zero-emission features and travel with a vision of luxury that embraces pleasure.
With an overall length of 13.15 meters and a maximum speed of 30 knots, The ICON is the pioneer of new battery electric yachts. BMW came up with the idea and developed the concept for it as a collaborative effort. This innovative project is at the helm of the BMW team and is the result of in-depth knowledge sharing between countless experts. Responsible for the design of the ICON is Designworks, a subsidiary of the BMW Group, with studios in Los Angeles, Munich and Shanghai. The development and realization of the concept was entrusted to the shipbuilder TYDE. The powerful electric drive draws its energy from a high-voltage battery supplied by BMW.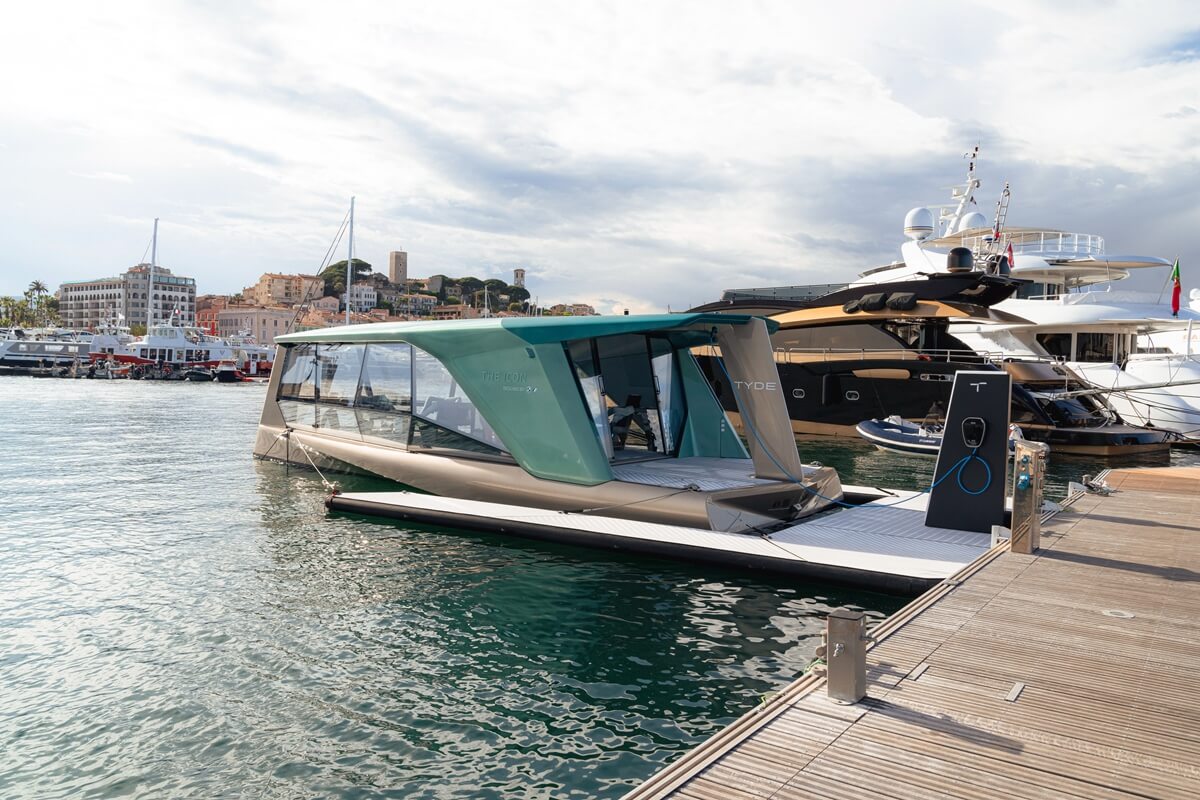 BMW sets the course for innovative concepts driving sustainable mobility
As the driving force behind ICON, BMW is once again in a position to demonstrate an overall commitment to sustainable mobility, not only in road transport but also in water mobility. Bringing together technical expertise across sectors to create successful solutions that put people at the centre.
ICON also represents a form of future-proof luxury. Eye-catching with its unique design, this innovative craft also offers a new mobility experience to passengers. Enjoy refined comfort with a significantly reduced environmental impact in a unique onboard environment.
Innovation in regatta to electrify and decarbonize the water
ICON sets new standards with battery-electric drive system. Until now, marine electric transport has been limited to small, slow boats with relatively short range. Long-range fast ships with internal combustion power still dominate the market. ICON redefines it, including the relationship between size, top speed and range, and electric boats.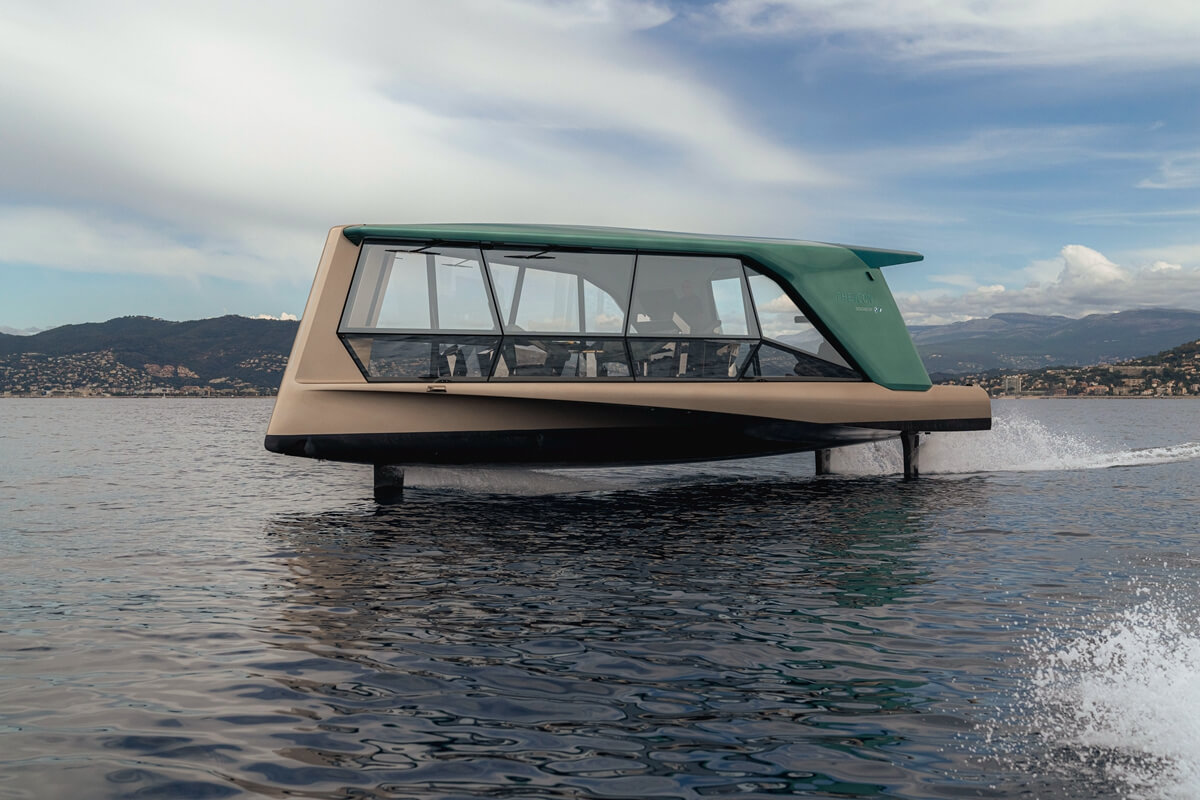 Yacht racing: an innovation in hydrofoils made it possible. Uses up to 80% less energy than conventional hulls. The foiling technology used allows the "flying" boat to ride on a fin structure below the water level, while the hull floats above the water's surface, and also provides a high level of travel comfort and high speed. Does
A pair of 100 kW electric motors converts 240 kWh of energy supplied by the BMW i3's six batteries, with an impressive range: 50 nautical miles (roughly over 10 knots (55 km/h)). Thanks to its innovative drive system and foil propulsion technology, the ICON travels virtually silently, without any vibrations or waves.
Meanwhile, ensuring an equally impressive onboard sound system is the Dolby Atmos system, which is capable of excellent sound quality. When developing the sound concept, including the drive system and the pleasing, smooth functional tone, BMW called on two-time Academy Award winner Hans Zimmer to compose it. Revolutionary acoustic creation soundtrack from Hollywood composer, and a new era of enjoying sustainable water travel.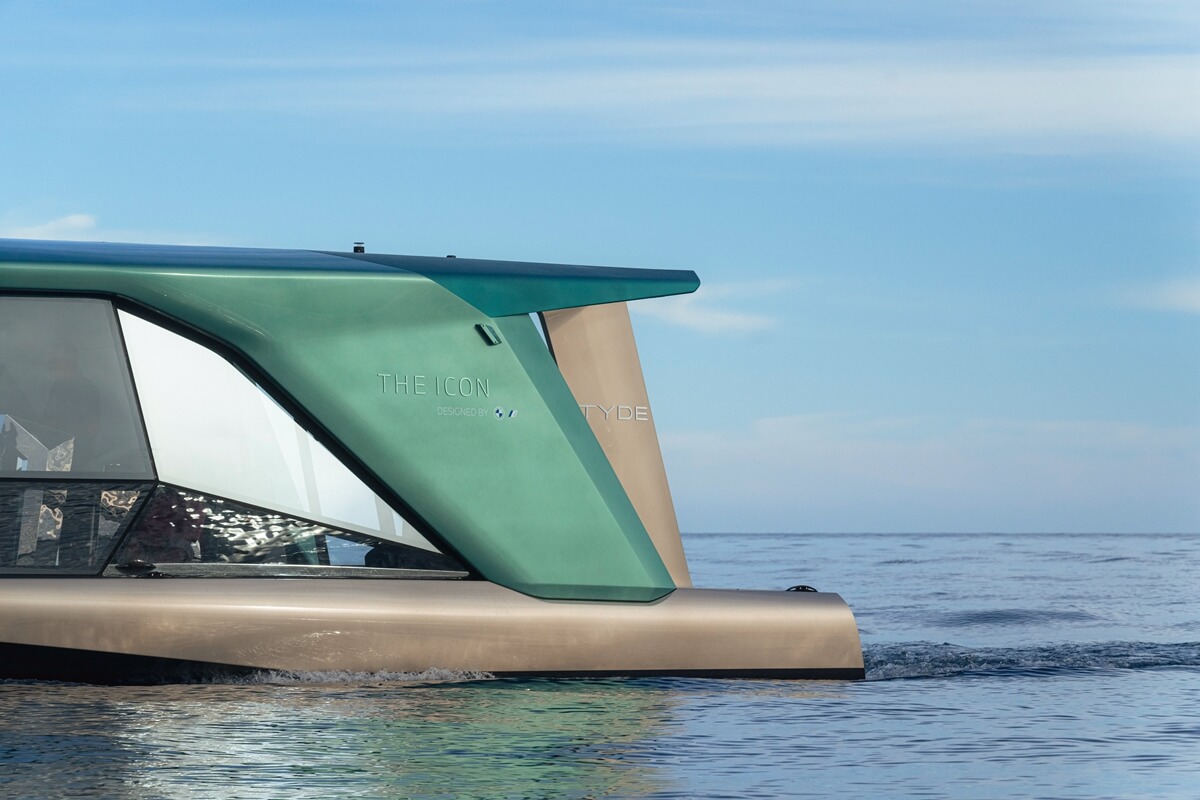 Ikon: The unique innovation is also reflected in its design
The visual effect of a boat ride comes from being able to clearly see the scenery outside. The hull consists of a very flat hull and a central support forming elements of a transparent architecture, technically shaped by a precise design language. Original profile, with a prismatic form and a rear width of 4.5 m. This makes a very spacious entrance to the luxurious lounge. The hull itself stands on its own due to its origami lightweight structure. The foil technology makes the travel experience particularly seamless, and designers took the opportunity to replace traditional surfaces with large glass surfaces along the hull sections.
Icon: A Social Gathering Place in Any Port
Sloping glass doors open onto the lounge area, and view art design furniture on a plush rug, reminiscent of a kaleidoscope. Each piece is made of sheet metal sections whose grainy surface structure reflects sunlight onto the floor like ocean waves.
The 360-degree swivel seats are at the heart of the user-centric experience, with all essential functions including the tablet-based infotainment system arranged within easy reach. With just a twist, seat placement can be changed to facilitate social interaction, becoming a conference center that feels at home in any port.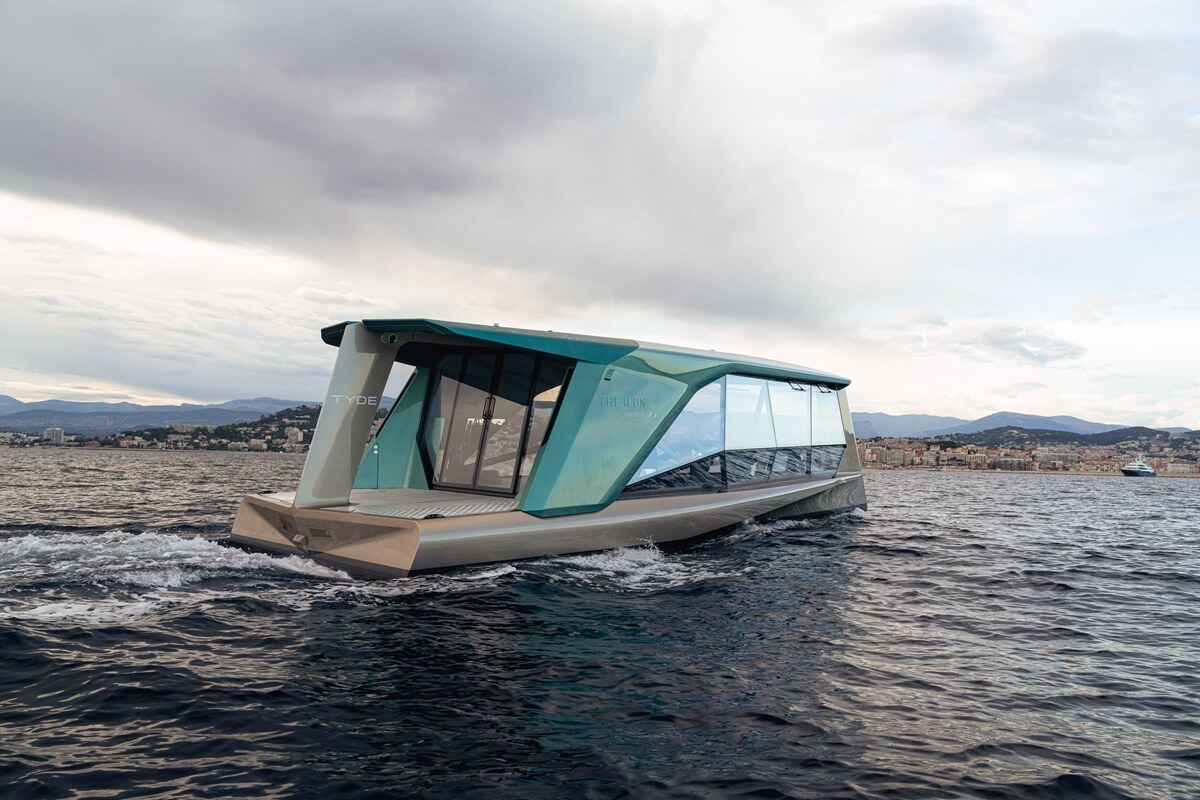 BMW Interface groups marine instruments into one digital control unit
The ship's command station is located in the middle of the deck, representing its wheels and solid motion as well as instruments of pure BMW design. A key function of the BMW interface with all control units in digital is to replace the traditional array of marine instruments. Human-machine interaction comes in the form of a 32-inch touch screen with 6K resolution and the BMW iDrive control/operating system. Through BMW iDrive 8, a new dimension of information visualization and digital interaction has been opened up, and key functions such as information, weather forecast and battery life can be called up using voice commands.
The ICON, which debuted at Cannes, is not a design study or concept, but a fully production-ready example that boasts groundbreaking technology. ICON's platform concept, which focuses on the modern urban lifestyle, can be used by luxury-conscious individuals as a vehicle for customer interaction in the maritime transport and commercial sectors. The creation of ICON will accelerate zero-emission luxury water mobility, opening up a new market segment.
Their mission will inspire CO2-free water transport: without polluting the environment, without noise, but with maximum comfort. The ICON impresses with a powerful drive system, foil technology that enables it to reach high speeds without creating waves or trailing wakes. The only thing ICON leaves behind in every journey is joy and happiness.