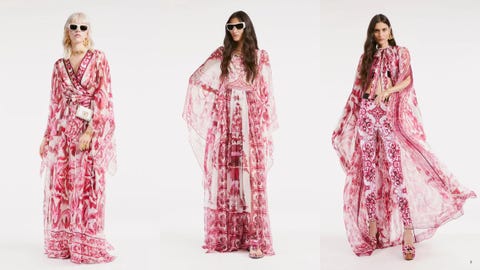 dolce and gabbana dolce and gabbana
Dolce & Gabbana The Dolce & Gabbana 2023 Early Autumn Women's Maiolica Fuchsia series reinterprets Maiolica ceramic glaze in a modern way. The classic design is enhanced with rich and passionate luminous powder, which with brand tone reflects the invaluable heritage of southern Italy for a hundred years.
The Sunshine Islands have generated countless artistic inspirations, and past styles are here too. In this range, iconic design elements are reused and reflected, and injected with a strong and unique Sicilian brand, condensing the essence of the brand. At the same time, maiolica's exquisite glaze patterns with hand-drawn natural brushstrokes on various fabrics retain the most original style, paying tribute to the exquisite craftsmanship and unique artistic feelings of craftsmen and artists.
This season's key print elements are all derived from the most iconic Mediterranean pottery. Through simple mixing and matching, the designer has innovative ideas on materials, proportions and detail design, and each new combination can hit unexpected and unique styles. The rich pink color is like being in a fabulous garden in Sicily. In the contrast of light and dark, and in different color shades, the femininity and power of women become more dazzling.
The brand designer uses pink as the base color of the series and maiolica ceramic glaze printing as the main visual element, embarking on a journey of discovery of fascinating Italian art, perfectly appreciating the iconic dark contours with ingenuity in the details does, the reinterpretation of classic patterns and the ingenuity of craftsmanship craftsmanship.