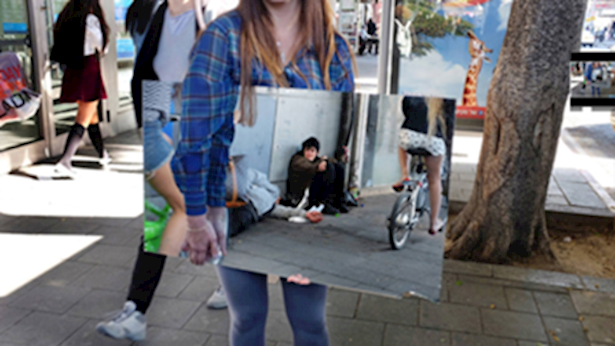 The Google Arts & Culture platform, which includes art and culture exhibitions and virtual documents from nearly 3,000 museums and cultural institutions in nearly 95 countries around the world, has joined the Tel Aviv Museum of Art for the first time in a virtual exhibition that honors Alex Leibeck, winner of the Israel Prize for Photography, also known as the "paparazzi of oblivion".
Along with other international exhibitions from cultural institutions such as the Smithsonian American Art Museum, Harley-Davidson Museum, Carnegie Hall and others, "The Wanderer" exhibition has been launched on the platform on the occasion of International Museum Day.
More-
This is the first collaboration between Google and the Tel Aviv Museum of Art in the creation of a digital exhibition and also the first time that an Israeli artist has had the privilege of presenting a solo exhibition at Google Arts & Culture. The exhibition, curated by Raz Samira, recently curator of photography at the Tel Aviv Museum of Art, features 22 photographs taken between 1986-2022 by Liebeck, an up-to-date representation of Liebeck's Israeli reality. Focuses on attempting to present a date snapshot. through the camera lens.
Interactive exhibits allow you to "walk" between rooms in the virtual museum space and view each image in full screen. Some photographs are accompanied by a narration in Liebeck's own voice, sharing the anecdotes and stories behind them.
The text and commentary accompanying the exhibition states: "Leibeck is one of the leaders of Israeli photography. His photographs are unique in their ability to reach different places in different ways and to unite them for a certain moment, a defining moment." There is a link between Liebeck and Walter Benjamin's "Wanderer" wandering in Israeli reality. In the exhibition that is when wandering becomes wandering in virtual spaces.
"The camera is my means of expression. I see myself as a researcher, in a small way as a historian, as a collector of evidence in the space of Israel's existence. A kind of anthropologist, an observer, It's all evidence of what was there, what was here, with the help of a documentary, the camera," says Liebeck. "As a photographer I am exposed to the chaos and bustle of urban life, I am a kind of amateur detective who investigates the city and its surroundings, but mainly its inhabitants. I try to create a visual mosaic. which will be evidence of life in Israel.'
The relationship between Google, Liebeck and the Tel Aviv Museum of Art was initiated by Moriah Roiz, a product manager in Google's research group in the field of climate change, between her and her husband, entrepreneur Gadi Roiz, a hobbyist. After a chance encounter with the photographer, Liebeck. At that meeting, it became clear to Ruiz that Liebeck did not have a website that aggregated or displayed his photographs. Ruiz decided to volunteer for the good cause and work within the "20% Free Time" program, which allows Google employees around the world to promote issues close to their hearts that affect their daily work. Not part of, A Liebeck's virtual exhibition.
Roiz says: "When I met Alex, an artist whose work I have been following for years, I did not think that a year later we would be celebrating the opening of the first virtual exhibition of his life. I do not come from " With no artistic training or prior knowledge in the world and field of culture, I set out with a genuine desire to help remember and preserve, for future generations, the culture and creativity of our founding generation. Working together with Alex and venturing into unfamiliar territory was a very special experience for me and I thank all the partners in creating the digital exhibition, for allowing millions of people around the world to see the reality of Israel through Alex's eyes, its All complications can be conveyed. ,
"We wanted to create an exhibition that was suitable for the whole family and, since it is an international platform, suitable for non-Israeli audiences as well. The challenge was twofold: 22 of the more than 400 photos that Alex "The table and that is typical of the Israeli street," says Raz Samira, curator of the exhibition.
As part of Google Arts and Culture activities on International Museum Day, Google is launching Web Pocket Galleries, a new digital tool that helps museums display their collections in 3D virtual gallery spaces. With just a few clicks, institutions can customize every aspect of their galleries, from text to audio to color schemes, opening up new spaces to tell a cultural story. The exhibition "The Wanderer" was created using this device.
Comments on the article(0),
Your feedback has been received and will be published subject to system policy.
Thank you.

for a new comment
Your feedback was not sent due to a communication problem, please try again.

return to comment