"Omeni de Treba," directed by Paul Negocescu and produced by Anamaria Antosi, Ana Voicu, Paul Negocescu, Polly Angelova, was nominated as best feature film at the Gopo Awards gala on Tuesday. The 17th edition of the event, which celebrates and rewards the achievements of Romanian cinematography, took place at the "IL Caragiale" National Theater in Bucharest.

Iulian Postelnicu was nominated for Best Actor in a Leading Role for his portrayal of policeman Ilie in the film "Working People".
Tudor Giurgiu presented the award to an actress for her entire career whom Americans would say "you can't fit in". Ioana Crăciunescu is an "actress, poet, director, housewife, a good drinker, a good appreciator of life, she wanted to direct but gave up on acting. In college, she attended directing classes, and composed Her passion followed her. In the olden days, in television, she worked with the great Bocano. For me, the role of Anna in Dinu Tanse's "At the End of the Line" is her. was honored in France years later. In the "Special Edition" by Mircea Daneliuc, the woman we remember has some extraordinary frames. She renovated houses, lost a lot, but Iona is a fighter, she Published poems, she recently starred in Silvu Purkarete under the direction of Christie Puiu. She was stubborn".
"I, like the others, am a complete novice. I'll put this little guy on the bedside table and tomorrow morning he'll wake up inside me with a flower in his hand. I give it to you!" said the actress.
The award for directing was presented by Ilinka Goia to Paul Negescu for "Working People".
Ion Popescu Gopo "was one of the most important directors and animators. His works are renowned for their originality. Gopo made films that have lived on and that have inspired entire generations of artists." "For me, a child of that time, Gopo was a playwright, because he was generous, kind," said Medea Marinescu about the great filmmaker. "Gopo was a visionary, a master of animation and a great director."
Violinist Alexander Balanescu punctuated a musical moment inspired by Gopo's animations.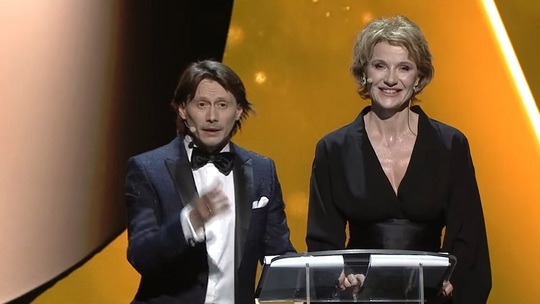 The Gopo Award for Best Actress in a Leading Role, presented by actors Gabriela Popescu and Vasile Muraru, was won by Andrea Grammosteanu for her role as Alina Moga in the film "#dogpoopgirl". "I am on the stage of the National Theater for the first time. Thank you to those who voted for me. I thank Andrei Hulec and the whole team, the family", said Andrea Grammosteanu.
Marina Constantinescu was the one who praised Mircea Andreescu, who was honored for her whole activity. Actor Mircea Andreescu listened with tears in her eyes. "He graduated an extraordinary series with Valeria Ceciu, Rodica Mandache, Ovidiu Iuliu Moldovan. In the 90s, he completed a film with Denlicu, rehearsed at the Odeon, commuted between Bucharest and Brasov. I admire him, because this job means an imaginary adventure. I admired him in the films of Dan Chisu, Dan Pita with Porumboi. This actor, the kind of grumpy Jean Gabin, receives an honor from the guild that The art and skill, courage and youth with which he set out on all the paths of his characters.
"I am very emotional because I did not expect such nice words. I lived a difficult life. This profession is difficult, but also full of rewards", Mircea Andreescu said on stage at the Gopo Gala. "I was seeing how hard it is to bear the images of those who have gone, editors or other colleagues no longer recognize. I tell you I had a difficult evening and it is a shame that some People with whom I worked with great success are missing: Dan Pita, Mircea Danliuk…", said the actor. "The important thing is that art saves us and the rewards are permanent", was the conclusion of Marina Constantinescu.
Industry personalities who died in the previous year were remembered in a special moment during the gala through a doina of mourning sung by Sofia Vikovianka.
Monica Stein, director of Immaculate, which won Best Debut Film, thanked the team and family.
The screenplay for "Working People" by Radu Romaniuk and Oona Tudor won the Gopo statuette.
Doina Levinza, winner of three Gopo Awards, was the one who was asked to present the award for Best Costume: Iona Kovalcic for "Metronome".
Film editors Melania Oproiu, Nita Chivulescu and Mircea Ciocleti were lauded by longtime fellow filmmakers for their significant contributions to the production of some of Romania's most important film productions.
Ophelia Poppy won the Gopo Trophy for Best Supporting Actress for her role as Nicoletta in the film "Man and Dog".
In the male category, Vasile Muraru won the Gopo statuette for his role as Mayor Kostica in the film "Men of Deeds" directed by Paul Negescu.
To commemorate Nae Caranfil and his film "E Pericoloso sporgersi" (1993), which will be re-released this year in a restored copy, the song "Let's Emigrate to America" ​​was sung by the rock band Omul Que Sobolani.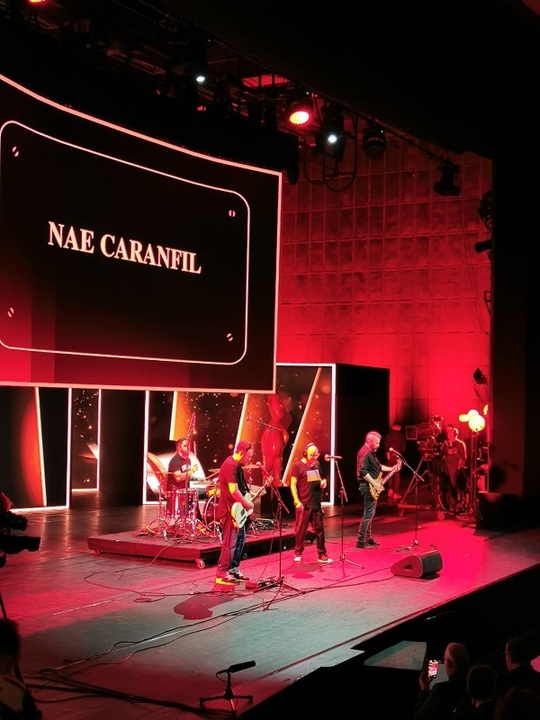 A strange moment of the gala, a film "with strong emotional impact" by Cinepremi, Liviu Ragnia (played by Ionu Rasu), who presented a recipe commenting on the nominated films. "Americans make movies with multiverses, we make movies with Sarmales", Ragniya concluded to thunderous applause from the hall.
"I want to dedicate this award to the fight against domestic violence," said director Teona Galgotiu, who received the award for best short film, "I Want to Break the Greenhouse."
The first prize of the evening, followed by the Romanian Society of Cinematography for Image, was awarded to Tudor Vladimir Panduru for "Metronome", followed by the first musical moment of the evening, presented by the Floriman project – Mircea Florian, Dietrich Krauser, DJ Vasil – "Que Pliopa Silver".
During the gala, Marius Manole paid tribute to actor Teodor Corban, who died in January. In the tribute film, director Radu Munten says, "He had the chance to show what a great actor he was. He was an actor who said a lot with few means of expression." "He had an extraordinary naturalness. He was one of those people with whom I liked to talk and with whom I liked to be silent", says Dorian Boguta.
"We had prepared for a lot of embarrassment," Lia Bugnar joked at the opening of the gala. "You have 30 seconds", Marius Manole warned the winners, so that "they don't have any problems". "To have a little scandal, a little, whatever. Please. Last year one of the complaints was "sexism". Now we have quantity too", the two joked.
The Gopo statue is the work of sculptor Adrian Ilfoveanu.
The event can be viewed live on VAIO, TIFF Unlimited and premiligopo.ro.
18 Romanian feature films slated to release in cinemas or on VOD platforms in 2022 were nominated in 20 categories this year.
The films with the most nominations at the Gopo Gala this year are: "Metronome" (11), "Immaculate" (10), "Working People" (10), "Miracle" (9), "Cre Nou" (8) and " For me you are Ceausescu" (5), "the spy of opportunities" (5).
Nominations for all categories of the 2023 Gopo Awards were determined by a pre-selection jury composed of 11 professionals in the cinematographic field. These include film critics Ionu Mares, Catalin Olaru and Dora Leu, directors Eugen Zebeleanu and Alexandru Mavrodinianu, actress Cristina Fluter, cinematographer Alexandru Sterian, editor Tudor Pozzoni, set designer Velika Panduru, producers Iuliana Tarnovci and Iona Florescu, cinema coordinator Elviar Popesco. Bucharest.
Following the announcement of the nominations, more than 700 active professionals from all sectors of the Romanian film industry were invited to vote for the designation of the winners of the Gopo 2023 Trophies, a poll provided by the prestigious audit and consulting firm PwC Romania. Through Tantra, with which the organizers of the Gopo Awards started a partnership since 2011.
record of the fair
Best Feature Film – "Working People", Producers: Anamaria Antosi, Ana Voicu, Paul Negescu, Polly Angelova
Best Director – Paul Negescu for "Working People"
Best Actor in a Leading Role – Iulian Postelnicu for the role of Elijah in "Working People"
Best Actress in a Leading Role – Andrea Grammosteanu for the role of Alina Moga in the film "#dogpoopgirl"
Best Picture – Tudor Vladimir Panduru for the film "Metronome"
Best Actor in a Supporting Role – Vasile Muraru for the role of Mayor Kostica in the film "Men of Deeds"
Best Actress in a Supporting Role – Ophelia Poppy for the role of Nicoletta in the film "Man and Dog"
Best Screenplay – Radu Romanić and Oana Tudor for "Working People"
Best Editing – Eugen Kelman for "Working People"
Best Sound – Sebastian Zemelli for "Spy of Chance"
Best Original Score – Alexandre Balanescu, Ada Milia for the film "The Island"
Best Costume – Iona Kovalcic for "Metronome"
Best Make-up and Best Hairstyling – Irina Ianassius and Marie Pierre Hattabi for "Metronome"
Best Debut Film – Monica Stein, Immaculate by George Chipper-Lillemark
Best Documentary Film – "Spioni de Ocazi/ Contemporary Detective", directed by Ona Giurgiu, Producer: Tudor Giurgiu
Young hope – Iona Chiu for the role of Irina in the film "Cre nou"
Best European Film – "Vortex" by Gaspar Noé, distributed by Independeta Film
Audience Award – "Teambuilding", directed by Matei Dima, Cosmin Nedelcu, Alex Kotet
Best Short Film – "I Want to Break the Greenhouse", by Teona Galgotiu, Producers: Ioana Bogdana, Andra Gheorghiu
Best Animated Short Film – "The Life of a Clown" by Joachim Stro, Producer: Claudio Mitcu