(Original title: Lishi Industry Observations | ChatGPT is on fire, can AI pharmaceuticals spark new growth?)
lead:In recent years, AI has become a new hot track in the pharmaceutical medical field. The explosion of ChatGPT in 2023 will let people see new possibilities of generative AI in the pharmaceutical field. When the potential of AI pharmaceuticals is continuously proven, under the general trend, how AI pharmaceuticals should break through the difficulties of data and supervision, break through challenges, and usher in new developments.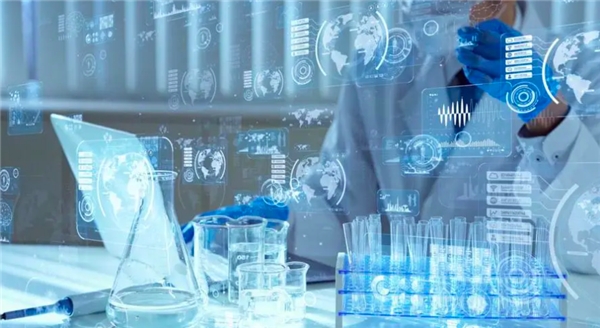 CCapgptFire,ohCan Pharmaceuticals Initiate New Growth?
Since OpenAI released the chat robot ChatGPT, the development of artificial intelligence has once again entered the fast lane. In the past month, people could see new advances in artificial intelligence every few days. Whether it is an industry giant or a start-up company, they are actively looking for ways to deal with the new wave of AI and formulating AI strategies.
The explosion of ChatGPT and the advent of the AI ​​2.0 era have also brought new changes to the biopharmaceutical industry. Recently, Insilico Medicine, an AI drug research and development company, published an article in Chemical Science, a well-known journal in the field of generative chemistry. The process of small-molecule inhibitors of the anti-cancer target CDK20 shows that under limited molecular structure data, artificial intelligence can aid in the discovery of new drugs and achieve cost reduction and efficiency enhancement.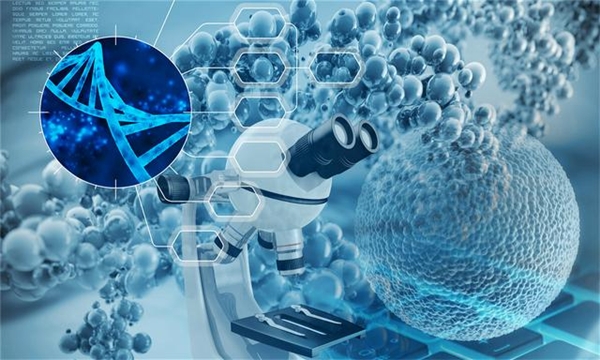 Earlier, the start-up company Profluent used ProGen, a protein engineering deep learning language model similar to ChatGPT, to realize AI prediction of protein synthesis and published the research results in the sub-journal of "Nature". It can be said that AI is bringing a fundamental change in the pharmaceutical sector. According to Gartner's "2022 Artificial Intelligence Technology Maturity Curve", 50% of drug discovery and R&D will use generative AI in 2025; In 2027, 30% of manufacturers will use generative AI to improve product development efficiency. With the continued development of generative AI, the field of pharmaceuticals may also usher in a new period of development.
oh,Protein becomes a new investment hotspot
ChatGPT's popularity is bound to drive a new wave of AI investment. In fact, as the topic of AI pharmaceuticals has been on the rise lately, the share prices of AI Concepts shares have also risen accordingly. Although there is currently no real AI pharmaceutical company in China, this does not prevent the share price of CRO (Pharmaceutical Research and Development Contract Outsourcing Service Organization) company Chengdu Hi-Tech from rising with multiple daily range in March. The Chengdu Herald said that the company has always been paying attention to the progress of AI in the field of drug research and development and will continue to explore and research, and will continue to increase efforts in this area in the future.
At the Fosun Pharma demonstration conference in March this year, chairman Wu Yifang said in an interview that in the future, AI pharmaceutical business will be carried out in the field of innovative drug target discovery and drug design.
Listed companies continue to develop AI pharmaceuticals, and the financial capabilities of start-up companies are also performing well.
On February 20, AI protein design platform company Molecule Heart announced that it has received a strategic investment of over 100 million yuan, which will also be used for further development of AI protein optimization and design platform MoleculeOS. As an application exploration in biopharmaceuticals, synthetic biology and other industrial fields. In less than a year, Molecule Heart has closed two funding rounds.
Investment enthusiasm for AI+Protein continues to grow in capital markets overseas. In April 2022, Arzeda announced the completion of a $33 million Series B financing for its ongoing protein design project.
In November 2022, AI + synthetic biology start-up company Cradle received a seed round of financing of 5.5 million euros. The funds will be used to support the company's research process in designing protein and cell factories based on AI.
In January 2023, Profluent announced the completion of a $9 million seed round of financing, which will be used to establish a comprehensive lab in Berkeley, California, to enable cross-platform collaboration between Profluent experimental methods and data generated by its AI systems. Will be able to build close relationships. A feedback loop that continuously improves the company's AI.
Investing capital more conducive to enterprises to continuously improve AI technology, promote people's understanding of the basic structure of cells, further promote the process of biopharmaceuticals, and thus promote the development of life science and medicine Will happen.
Generative AI disrupts protein drug development
Why do pharmaceutical companies value the field of "AI+Protein"? Because biopharmaceuticals are mainly proteins, and protein raw materials are one of the largest proportion raw materials in the upstream of biopharmaceuticals. At present, recombinant protein drugs have become one of the most important products in the field of biopharmaceuticals.
When people provide large amounts of protein data to AI, AI can analyze and study this data to create new proteins. In the process of protein design, AI can segment original disordered and unregulated amino acid residues into candidate proteins that can bind to targets, thereby facilitating the development of new drugs. Compared to the time-consuming and labor-intensive determination of protein structure by traditional experimental techniques, AI's powerful computing power algorithms and data processing capabilities can overturn traditional drug development and accelerate drug development.
In 2017, "Nature" published an article stating that the number of drug molecules that can be detected by humans can be 10 to the 60th power, while the number of molecules detected by traditional drug screening methods is only 10. is about 10 from The 11th power. There is a big black hole among the powers that is far from over, and many possibilities for new drugs may be hidden here. Generative AI can be one of the most powerful tools for prospecting.
Generative AI can generate algorithmic models based on training data and autonomously generate different types of content. The emergence of ChatGPT allows people to see the excellent results of the Large Language Model (LLM, Large Language Model).
ProFluent's protein engineering deep learning language model is similar to ProGen ChatGP, realizing AI prediction of protein synthesis. According to reports, the proteins designed by Profluent are highly active proteins that usually take hundreds of years to develop. It can be seen that generative AI can also learn basic principles of biology, which can greatly improve the efficiency of protein design.
Like ChatGPT, the ProGen model was built by researchers by feeding it the amino acid sequences of 280 million different proteins and training it for several weeks. Similarly, ProGen learns to make new proteins by learning the syntax for combining amino acids to make the 280 million existing proteins. Like ChatGPT, Progen needs to feed a lot of data in order to make the algorithmic model as accurate as possible.
As we all know, the research and development of new drugs is a long and complicated process with a high failure rate. With the development of generative AI, it can help pharmaceutical companies to rapidly identify and classify small molecules and biologics, and improve the results of clinical trials.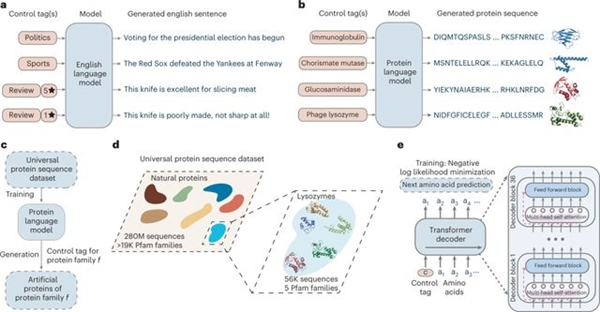 Legend: Generate artificial proteins using conditional language models
Challenges before AI Pharma
While the rapid development of AI has brought new opportunities for pharmaceuticals, challenges have always existed. The first is data. In early 2019, an article published in "Nature Reviews Drug Discovery" listed "acquiring suitable data sets" as one of the five major challenges facing AI drugs. First, the data must suffer quality problems. Many of the GPT-3 training data came from the Internet, which made people think that ChatGPT was talking nonsense. And it is more difficult to guarantee the quality of drug data. At the same time, drug data is more sensitive than other data, and data is scattered among major hospitals, making it difficult for technology companies to obtain and use them. If data islands cannot be broken down, the training of AI models will be unsatisfactory.
Second, compared with e-commerce, finance, sports and other industries in the field of pharmaceuticals, the richness and diversity of data is far behind, and the use scenarios are also limited. You must know that the implementation of AI will be easy only when the data is rich enough.
Most importantly, AI Pharmaceuticals will also face regulatory issues. The popularity of ChatGPT has attracted the attention of governments of various countries, and related regulatory regulations are being issued continuously. Reuters reported that on March 31, the Italian Personal Data Protection Agency announced a ban on ChatGPT, suspended OpenAI from processing Italian data, and opened an investigation. Germany, France, Ireland and other countries are also preparing to strengthen monitoring of ChatGPT. My country's National Internet Information Office has prepared a draft "Generative Artificial Intelligence Service Management Method (Draft for Comment)" to solicit opinions from the whole society. When wild emerging technologies meet the hands of regulation, future development will be fraught with greater uncertainties.
It is worth mentioning that although AI pharmaceuticals is the general trend, in the eyes of traditional structural biologists, AI is the future, but it is still unsatisfactory.
Yan Ning once said that AI still has limitations, and AI still needs a large database, strong computing power, and new algorithms. Michael Levitt, winner of the Nobel Prize in Chemistry in 2013, said in an interview with China Business News, "I think many structural biologists are not only researching the structure, but they also do a lot of research on the function and function of proteins." are doing. Pharmaceutical research and development is like Professor Yan Ning. Artificial intelligence only frees part of the traditional manpower, but the progress of science still needs to rely on the most intelligent human brain, and artificial intelligence alone is not enough Might be possible. "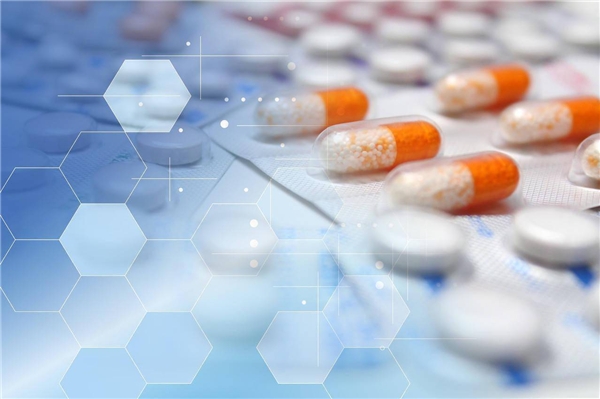 Epilogue
The field of AI pharmaceuticals is very popular, and the funding amount of AI pharmaceutical start-up companies is also increasing day by day. We can see the pharmaceutical industry eagerly embracing AI and pinning its hopes on this cutting edge technology. Shorten drug development cycles, reduce drug development costs, and improve drug development. success rate, create more business value and social value.
However, at this stage, AI pharmaceuticals are facing many challenges in terms of technology and policy. Some traditional pharmaceutical companies have a complex attitude towards AI and still have a wait-and-see attitude. The commercialization prospects of AI pharmaceuticals still need to be tested by the market.
But in the long run, with the rapid development of AI technology, AI pharmaceuticals is still the future development trend. As pharmaceutical companies continue to grow in experience and optimize AI, AI will become more and more valuable in the pharmaceutical industry, which will further promote the development of biological sciences and benefit more people in general. This path is long and difficult, but full of fantasies.
About Lishi Investments
Established in 2007, Lishi Investments is an asset management organization based in China, helping Chinese investors allocate assets in the equity investment market.
By the end of 2022, the assets under management will exceed 12 billion yuan.
Equity investing is one of the most important allocation types in the asset allocation structure. Lishi Investments focuses on the field of venture capital, invests in start-up companies that have long-term value to the Chinese economy, promotes the rapid development of invested companies, and seeks to achieve sustained appreciation of the assets under management. tries to
Lishi Investment firmly believes that equity asset allocation to technology companies provides an opportunity to bring more substantial returns to an investment portfolio.
Lishi Investment focuses on artificial intelligence, medical and healthcare industries, provides more valuable value-added services for invested companies, and strives to create long-term excellent investment returns for investors.
We would like to watch the flight to China together with you.
Source of this article: Financial Reports Network