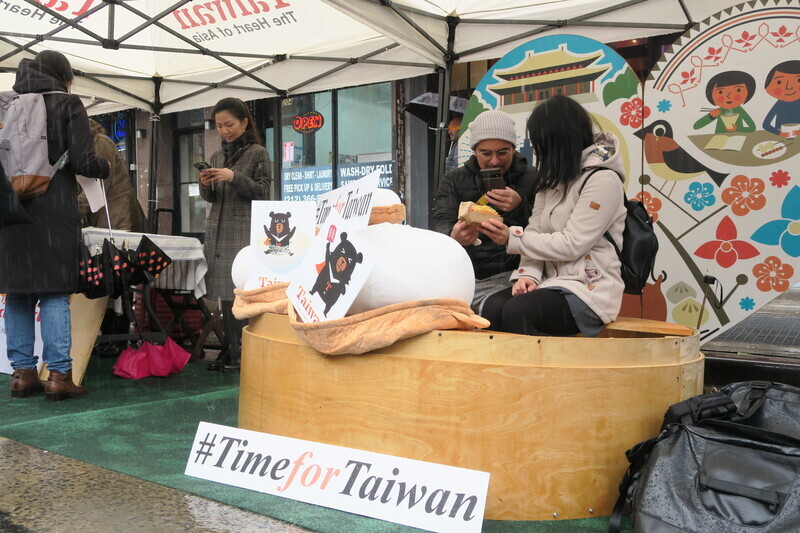 After 9 months, a market organized by Taiwanese communities reappeared on the streets of New York. Even though the wind and rain affect the popularity, vendors are still working hard to promote snacks such as large sausages wrapped in small sausages and fried sweet potato balls to New Yorkers. New York, which is supposed to welcome summer, is becoming more and more Taiwanese.
Neighborhood festival called TaiwanFest started last summer. It presented Taiwanese snacks and cultural and creative products at three locations in New York, and encouraged a new generation to try starting businesses from the stalls, in order to root for local Taiwanese businesses of the future. The first TaiwanFest of the new year was held today in Chelsea, Manhattan, but the weather was unfavorable and rain in New York reduced the crowd significantly.
However, Xu Baocheng, the chief planner of the event, said in an interview with the Central News Agency that "when it meets water, it will break", and the rain is a good sign. The most important thing is that people participated and carried umbrellas without fear of wind and rain, and many stalls were doing good business. I am very glad that so many people support TaiwanFest, and hope that more People will support TaiwanFest. Future.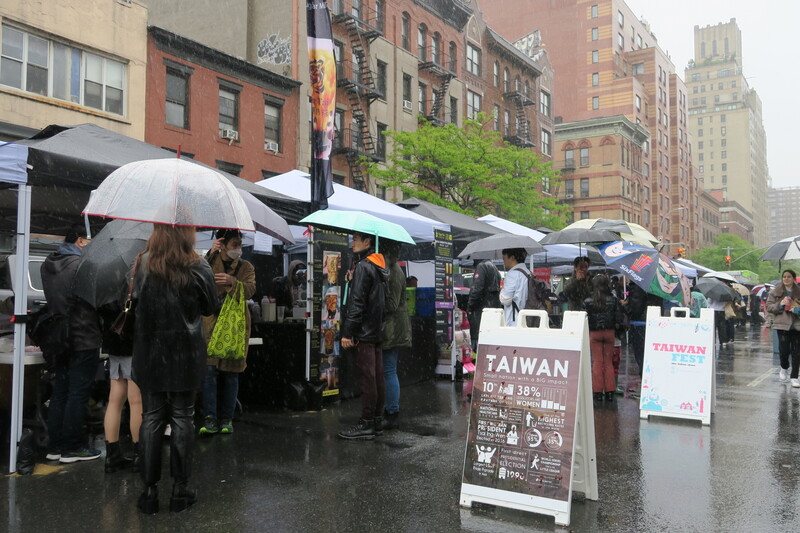 The Taiwanese community in New York plans TaiwanFest, a neighborhood festival. On the 29th, the first event of the year was held in Chelsea, Manhattan. Even though wind and rain affected the popularity, many people attended under umbrellas. (Photo: Central News Agency)
To differentiate it from neighborhood festivals in other countries, TaiwanFest focuses on the night market elements of Taiwan. Stalls sell drinks such as pearl milk tea, chicken cakes and fried sweet potato balls, along with traditional dishes such as braised pork rice. meat dumplings, and baobao. Egg stalls have been set up so that people can enjoy eating and drinking.
Civil servant and errand chef Huang Xuan intends to promote Taiwanese food in New York. He attended TaiwanFest for the first time and set up a stall. He used barbecue grills to sell large intestines, grilled corn and meat skewers wrapped in small wraps. He also sold homemade longan nut, oolong tea pineapple and salted egg cake with friends. , is one of the most popular stalls. The food they prepared sold out, and the stall was closed 2 hours ago, and Xiang Yu's customers said it was a pity.
Huang Junyan said that he hopes that there will be more Taiwanese night market stalls in New York, so that more Americans can get to know Taiwan's delicious and famous snacks. "We will continue to participate next time regardless of the weather."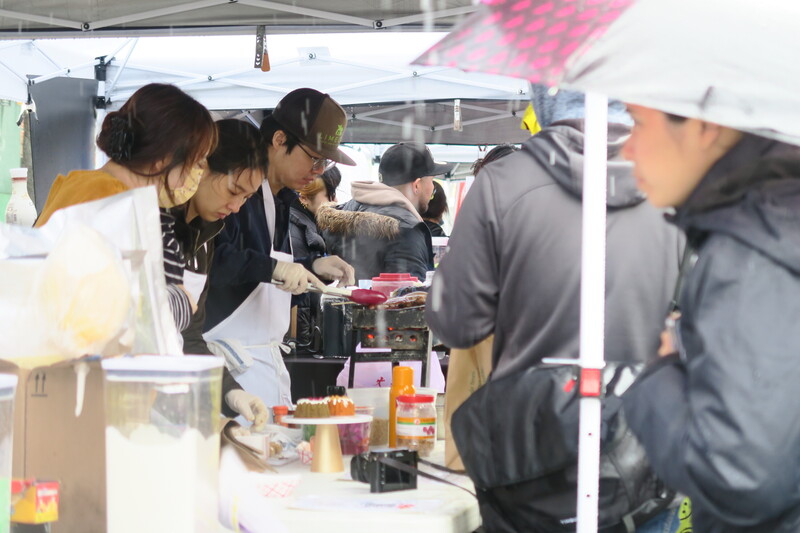 The market, organized by the Taiwanese community in New York, began on the 29th in Chelsea, Manhattan. Stalls selling small sausages, grilled corn and large sausages wrapped with cakes were very popular. (Photo: Central News Agency)
In addition to attracting New Yorkers with food and beverages, TaiwanFest also cooperates with the Tourism Bureau of the Ministry of Communications to set up a stall to provide promotion and consultation services. Taiwan is expected to increase its exposure in this international city and attract more people in the post-COVID-19 (Coronavirus Disease 2019) period. Many international tourists come.
Wen Jiaxi, director of the tourism bureau's New York office, said that if independent tourists visit Taiwan, they can participate in a NT$5,000 lucky draw. The tourism bureau also offers half-day tours for transit tourists. The number of international tourists is very high. Welcome to visit Taiwan and experience Treasure Island beautiful style.
In addition, the Passport to Taiwan Festival, which in previous years was held in late May at Union Square in Manhattan, will return this year and is scheduled to be held on May 28. This event, which started in 2002, combined food and cultural performances to fill the best venues in New York with the flavors of Taiwan, was suspended for 3 years due to the COVID-19 pandemic.
TaiwanFest starts today as a warm-up for the "Taiwan Tour". Xu Baocheng, who spearheaded these two major events, said that he hopes that vendors and the general public will actively participate, so that everyone will feel that Taiwan is an interesting place. Many Americans do not know Taiwan, "We will take responsibility and introduce Taiwan to the American people."