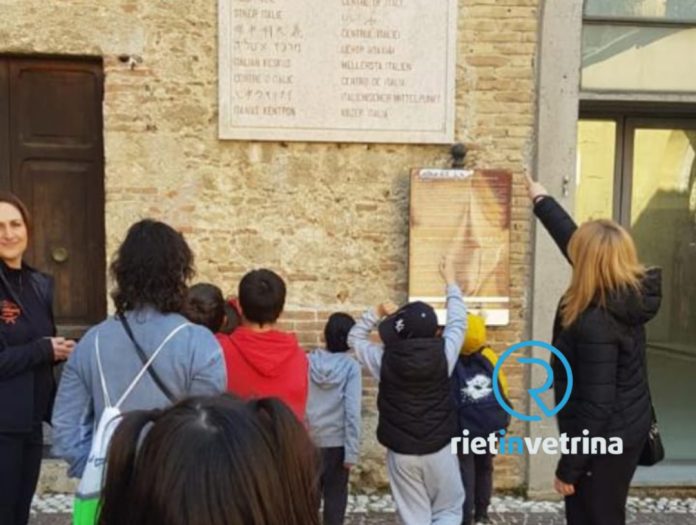 Let's go back to talking about "Relationships – Circular Relations", a project managed by the Levante Social Cooperative Society of Rieti, in partnership with the Mikiani Unita Cultural Association of Cittaducale.
Funded by the Lazio Region, FSE, the ultimate goal of this ambitious project is to implement the inclusion and socio-cultural integration of the foreign minor and his or her entire family. The project continues at full speed, with all activities currently underway in all participating schools, 11 schools in Rieti and the Giovanni Pascoli Comprehensive Institute, the Antonio Malfatti Comprehensive Institute and the Quirino Primary School Majorana.
We briefly recall that the main activities of the project are: Italian L2 literacy courses aimed at foreign minors; Workshops, manual and expressive-motor, and outdoor trips to discover our territory, both of these activities are aimed not only at foreign minors but at the whole class group because it is believed that these activities represent a significant enrichment because they greatly facilitates integration and because children are involved in practical activities that require direct contact between peers.
There is also a psychological listening desk which is proving to be an excellent tool to facilitate the reunification of families involved through individual routes. They positively welcomed and are welcoming this intervention, emphasizing how to be heard and supported is the possibility of having one's own space, which should not only be used for discussion and resolution of specific problems. Rather, and above all, it is also necessary to feel less. Facing alone the experience of rebuilding your life in a new country far from your own, geographically and culturally. There is also the presence of a professional teacher who is assisting minors in situations of special need in consolidating the acquisition of the Italian language and strengthening autonomy. The work of the project social worker also continues, assisting various professional figures in the definition and planning of individual interventions as well as the activities envisaged by the project.
In carrying out the project, some cultural mediators in turn facilitated both the communication and the socio-cultural contextualization.
"Rishtey – The Circular Relationship is a project expressed by many and varied activities, but in light of the continued and fruitful collaboration with the participating educational institutions and the availability and propensity that the families involved are welcoming our intervention, We are extremely satisfied with the work we are doing and the objectives we are achieving every day" – Comment on the organizers – For the summer period we are planning the continuation of the Italian language L2 teaching and educational intervention that is within participating schools by the end of next July. The outdoor releases scheduled for the month of May and June will also continue. Finally, with the end of the school year, some events will be organized within some of the schools that follow the project, events that will see as protagonists some of the classes involved in the laboratories "- concluded the representatives of the project.